It is the goal of Waverly City Schools to be in school with students learning in the classroom. We are currently monitoring numbers for COVID-19 in the county and will continue to do so daily. At this time, students will return to school tomorrow, January 4th, but masks will be required this week for staff and students. Communication with the Pike County Health District will continue daily to review positive cases in our school district. The district will reevaluate our plan for next week regarding in-person learning and the mask requirement. If numbers continue to rise, the plan may be reevaluated sooner. Please continue to monitor your children's health each day before sending them to school. If symptoms are present, please keep them home. Thank you for your cooperation and understanding.
Waverly City Schools held the Intermediate Spelling Bee and Jr High Spelling Bee in the high school auditorium today with 30 students competing from each building. The winners (top 10) from the Intermediate and (top 20) from the Jr. High will represent their schools in the live-streamed City Spelling Bee on January 11 @ 9:00a.m. Congratulations to all spellers that participated in today's competition. 🐾 (1st photo) The Intermediate building winners were Alli Harwood (3rd place), Mia Portillo (2nd place), and Hayden Hubbard (1st place). (2nd photo) Jr. High winners are Katie Long (3rd place), Jacob McCune (2nd place) and Ryker Johnson (1st place).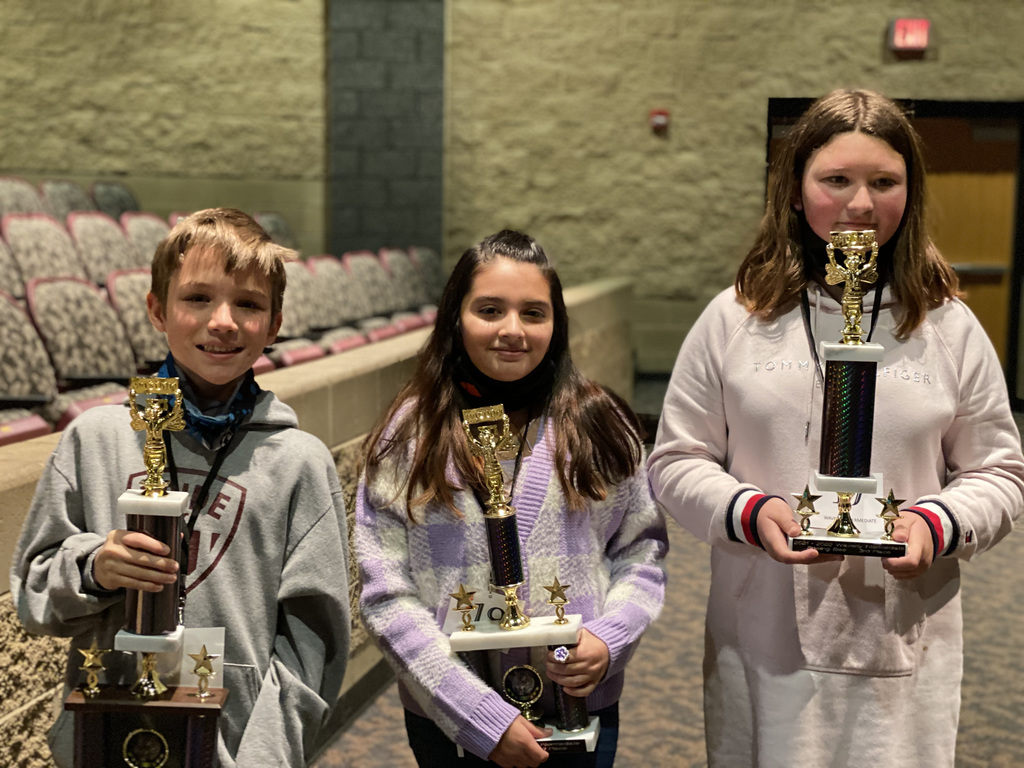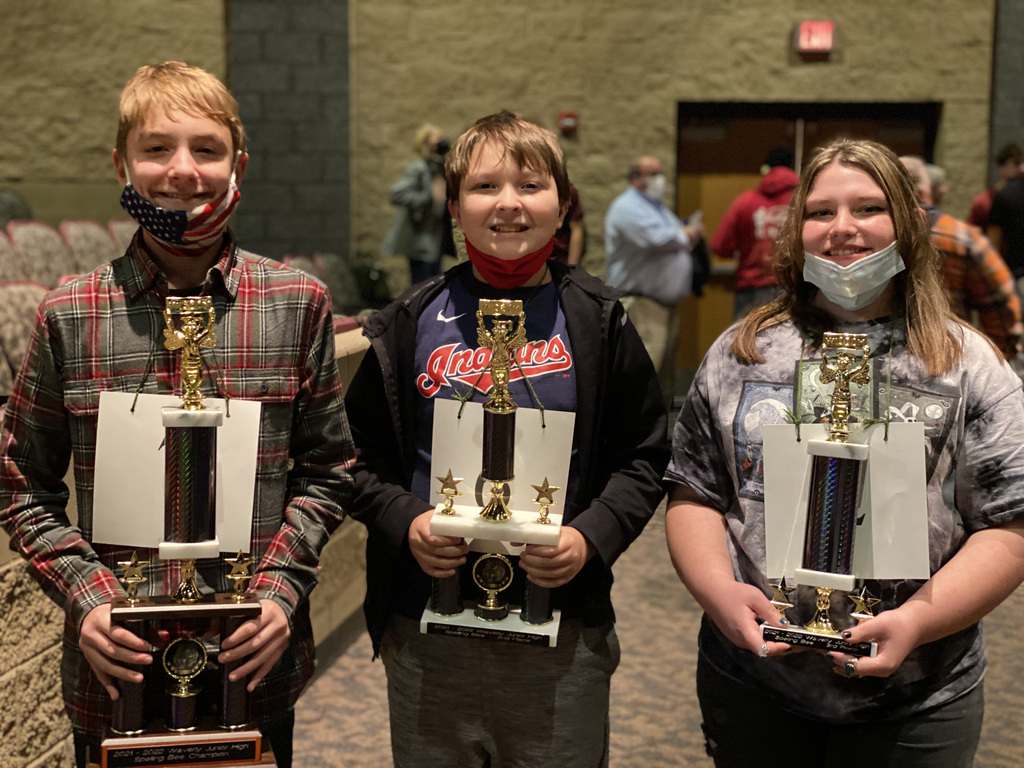 Waverly Tiger football offensive line vs Piketon Redstreaks offensive line in the McDonald's (of Waverly) Pancake Challenge this morning! Tigers were represented by Brock Adams, Jace Gecowets, Nate Welsh, Logan Long, and Jake Schrader. Piketon was represented by Hunter McComas, Gabe Lamerson, Dawson Montgomery, Alex and Tre Jenkins. The winners received $1000 for their team and losers received $400. Piketon Redstreaks 70, Waverly Tigers 60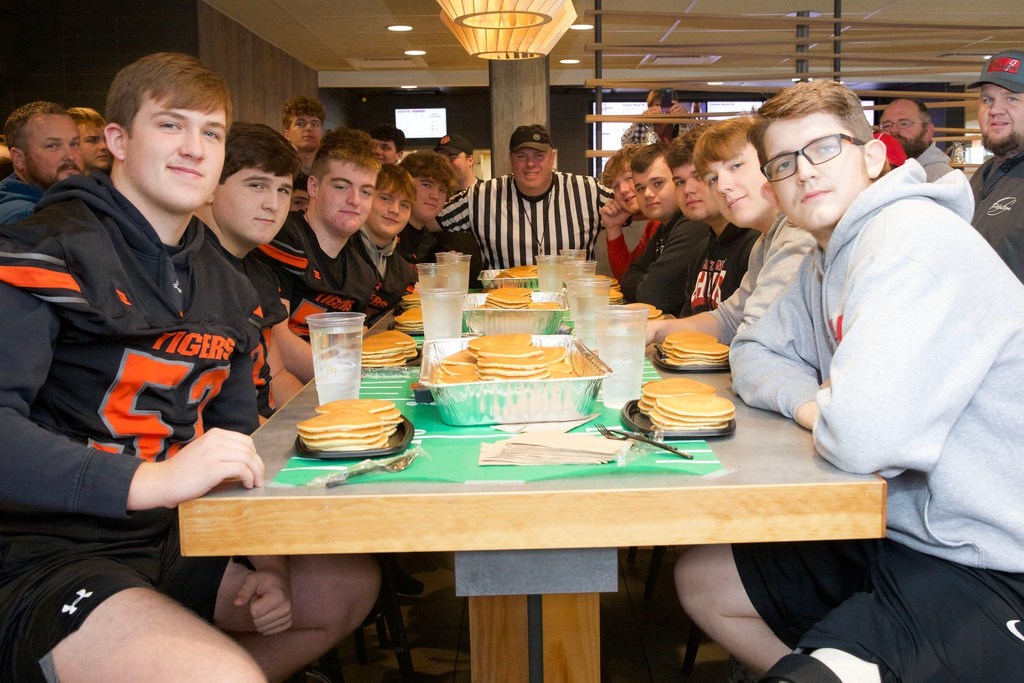 The Waverly Leo Club was able to send 12 volunteers to the assist with water refill station at Lake White during the TOSRV Bicycle Ride on September 25th and 26th, 2021.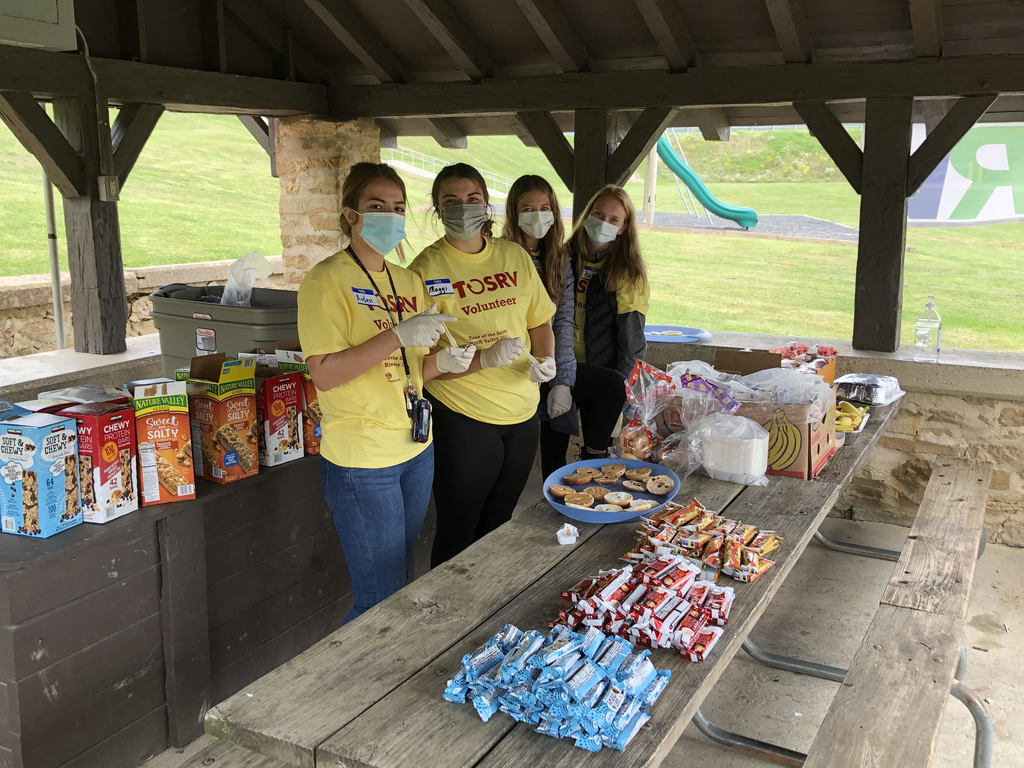 Staff In-service will be Monday, November 1st, 2021. Students will not be in attendance on that day. Fall Parent/Teacher Conferences: Tuesday, November 9th and Tuesday November 16th from 3:30-7:00 p.m. each evening. If you would like to schedule a time with your child's teacher, please call the front office of your students building. Primary building (740) 947-2813 Intermediate building (740) 947-5173 Jr. High School (740_ 947-4527 Waverly High (740) 947-7701
YMCA, Be apart of the team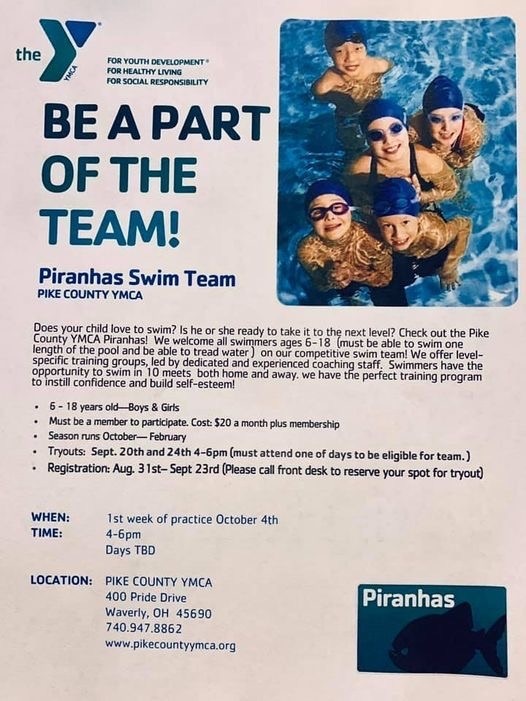 HOMECOMING ANNOUNCEMENT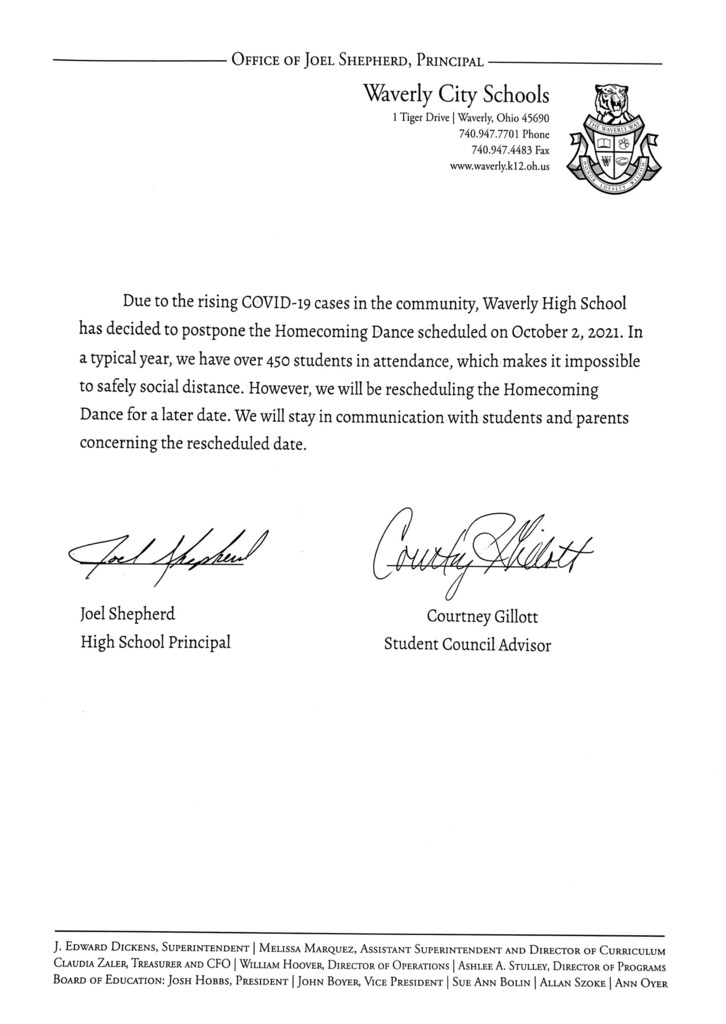 Job Opportunities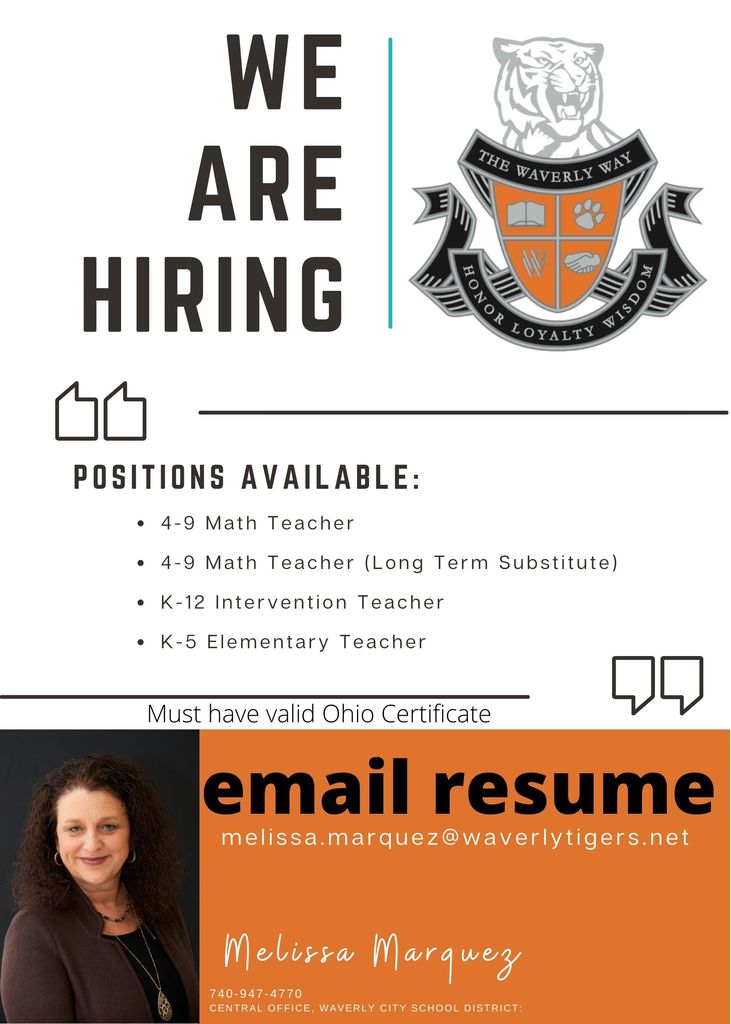 Waverly City Schools Bids Farewell to Several Faculty and Staff Members after Many Years of Service By Ethan Leist News Watchman Editor As the school year has come to a close, multiple teachers at Waverly City Schools have announced their retirement after many years of service. At Waverly Primary, Sue Westfall has retired after 28 years of service at Waverly as an instructional aid. At the Intermediate School, Nancy Terry and Melissa Johnson also announced their retirement after 23 and 22 years of service respectively as teachers. Other Waverly staff members that have announced their retirement this year include, Judy Ritchhart, who has served 43 years as a Bus Driver, Debbie Woodard, who spent nine years as a Cook, Rebecca Owens, who served 23 years as a Bus Driver, and Bill Maloy, who spent 43 years as a Bus Driver.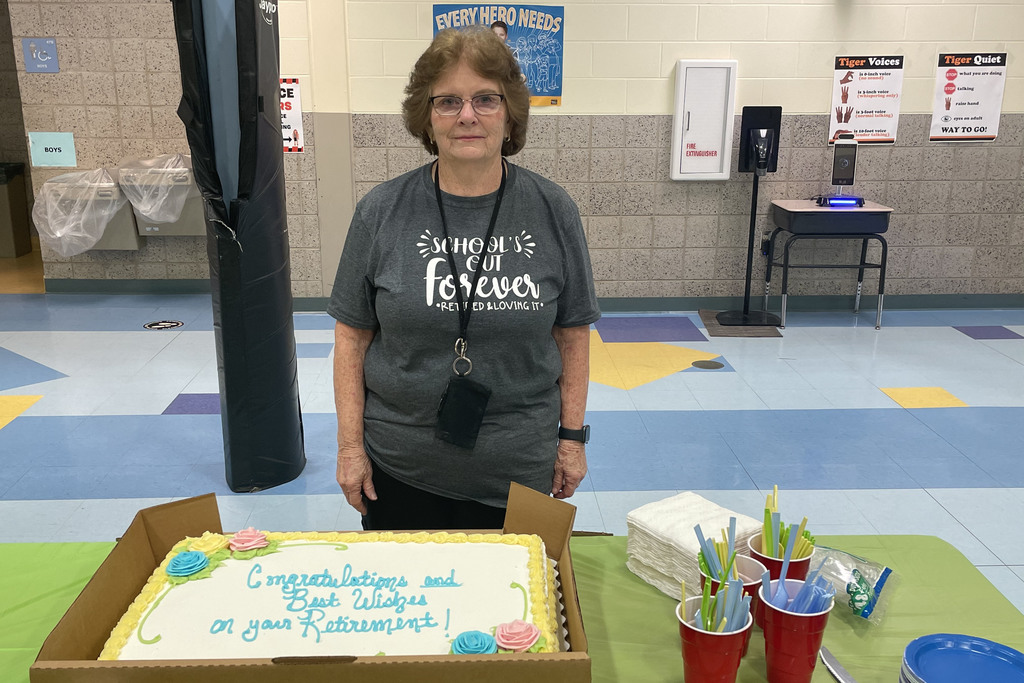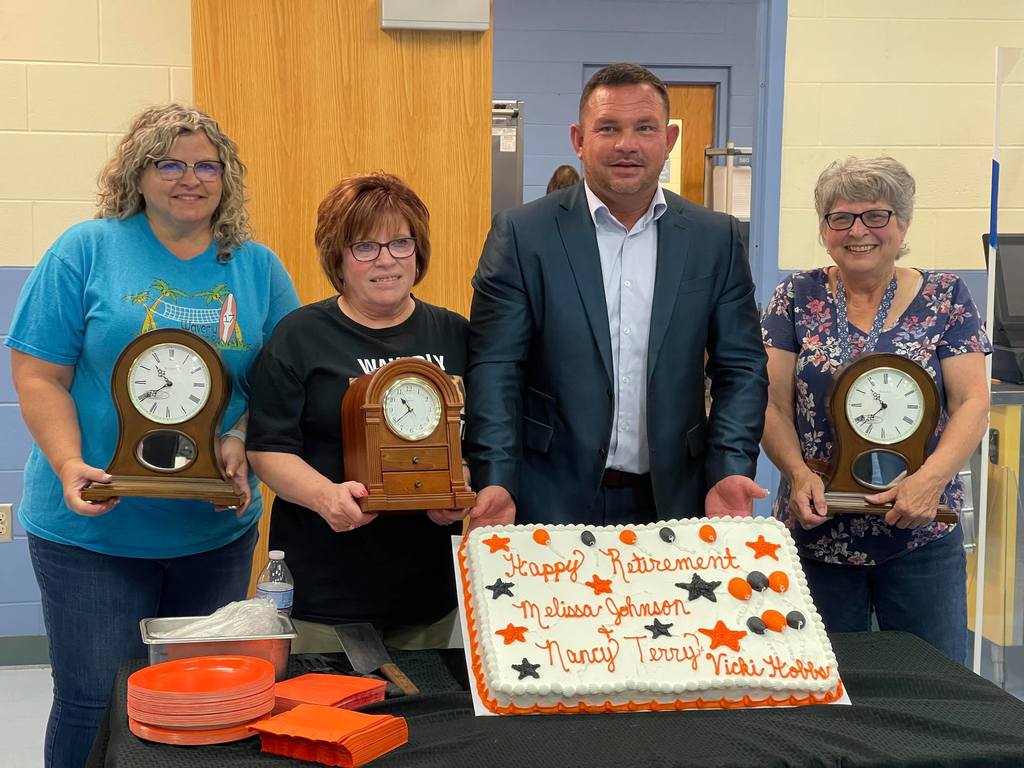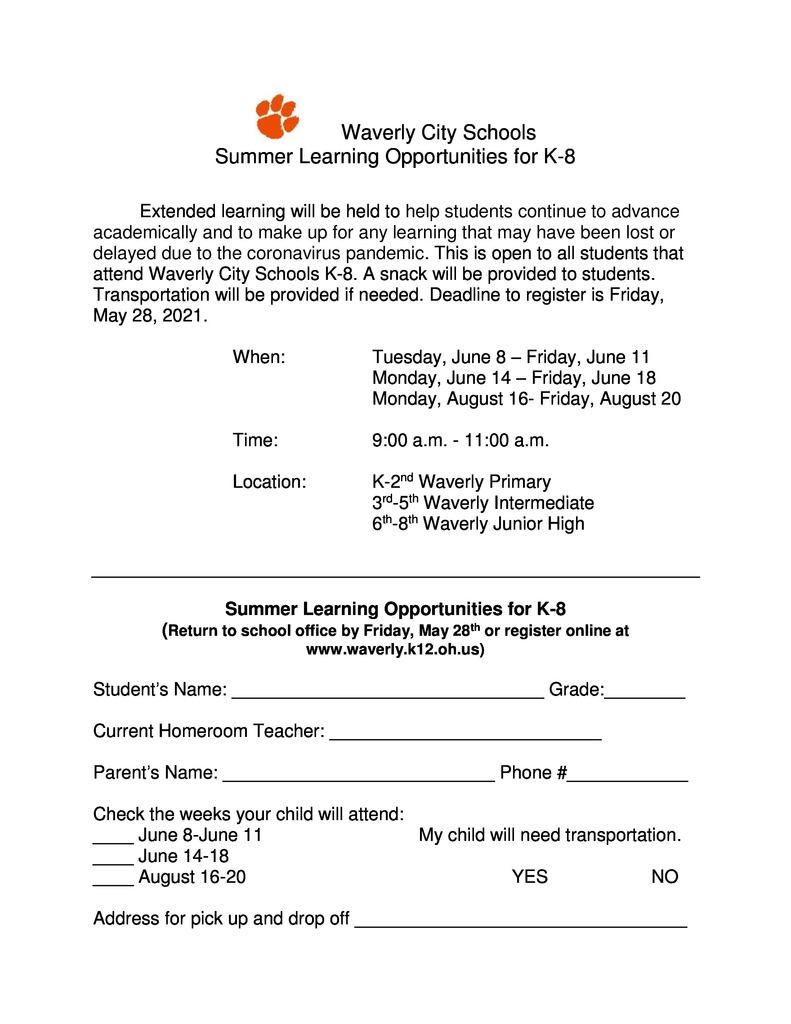 Starting in November of 2020, National Honor Society members could sign up to work volunteer hours at the Pike Outreach food pantry. Students worked from 9am-noon or noon-2:30 on the days they signed up. During these times, students helped with carrying packages to cars and stocking the food pantry. Over the course of five months, NHS members clocked just over 200 hours of volunteering. The NHS would like to thank food pantry manager, Autumn May-Topping for her help in setting up the program. Topping stated, "It was so amazing working with these young adults. I'm so glad that they had an opportunity to come in, help out, and see those less fortunate. I will definitely be looking forward to next year, working with these wonderful young men and women."
On March 11th, two Waverly teams competed in the 9th annual South Central Regional Science Bowl. Unlike past years, the teams did not travel to Shawnee State University to compete. Instead, officials from the Fluor-BWXT traveled to Waverly High School. Teams competed individually in separate rooms and then scores were compared to all other teams that competed. Waverly 1, consisting of Jenna Thompson, Eric Patton, Brock Adams, Julia Clark, and Waylon Lamerson, came in 6th overall out of 23 teams. Waverly 2, consisting of Britton Kritzwiser, Josh Heigley, Aidan Peoples, Greenlee Thacker, and Ben Flanders, placed 20th. This was a very interesting year and both teams look forward to returning to the regular format stated advisor Amanda Entler.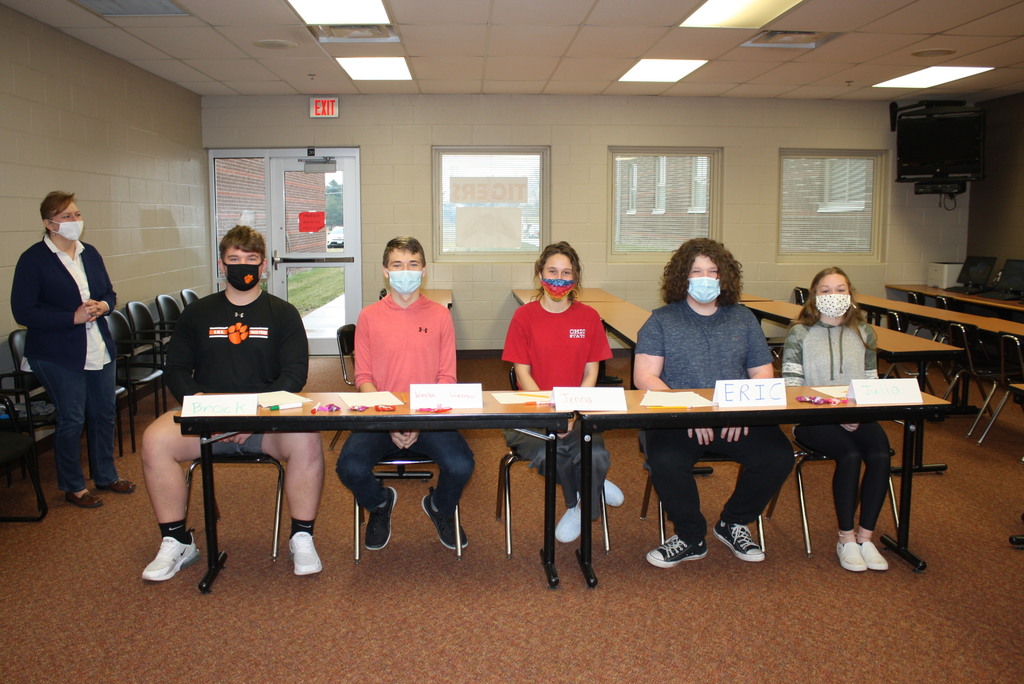 The Waverly High School Quiz team placed 1st in the the Pike, County Tournament! Team advisor and members include Amanda Entler (advisor), Brody Holderness, Eric Patton, Greenlee Thacker, Chris Zabala, and Britton Kritzwiser. Great job Tigers!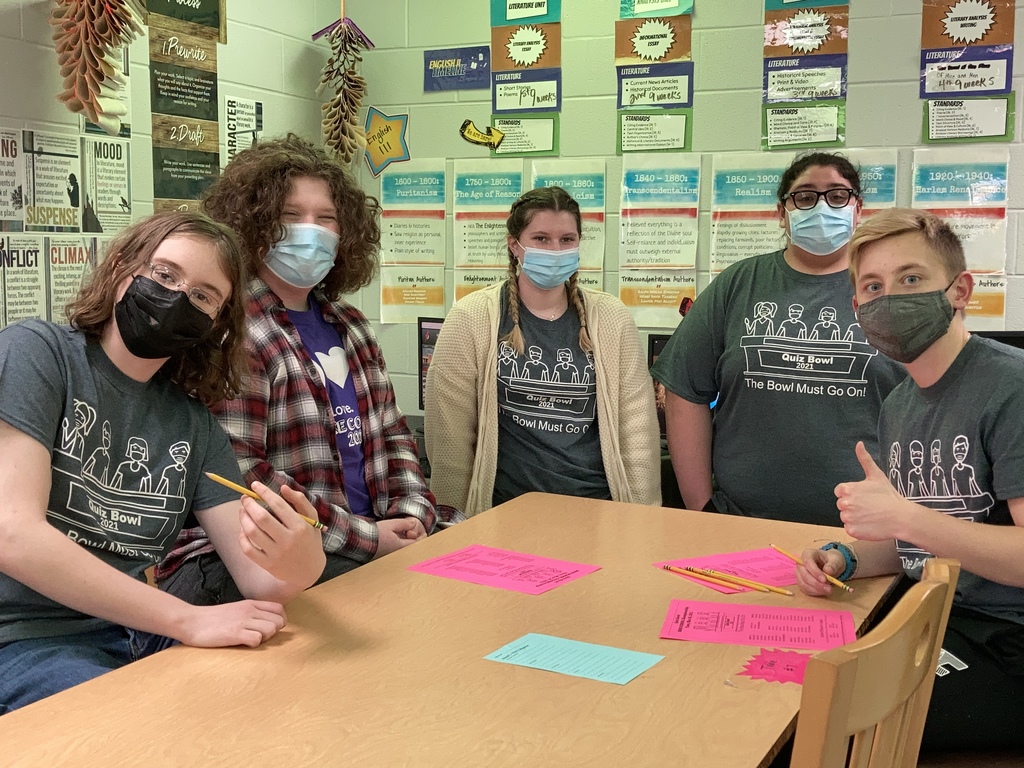 * NEWS RELEASE* Waverly City Schools Kindergarten and Preschool Registration